Colby Smith Historical Marker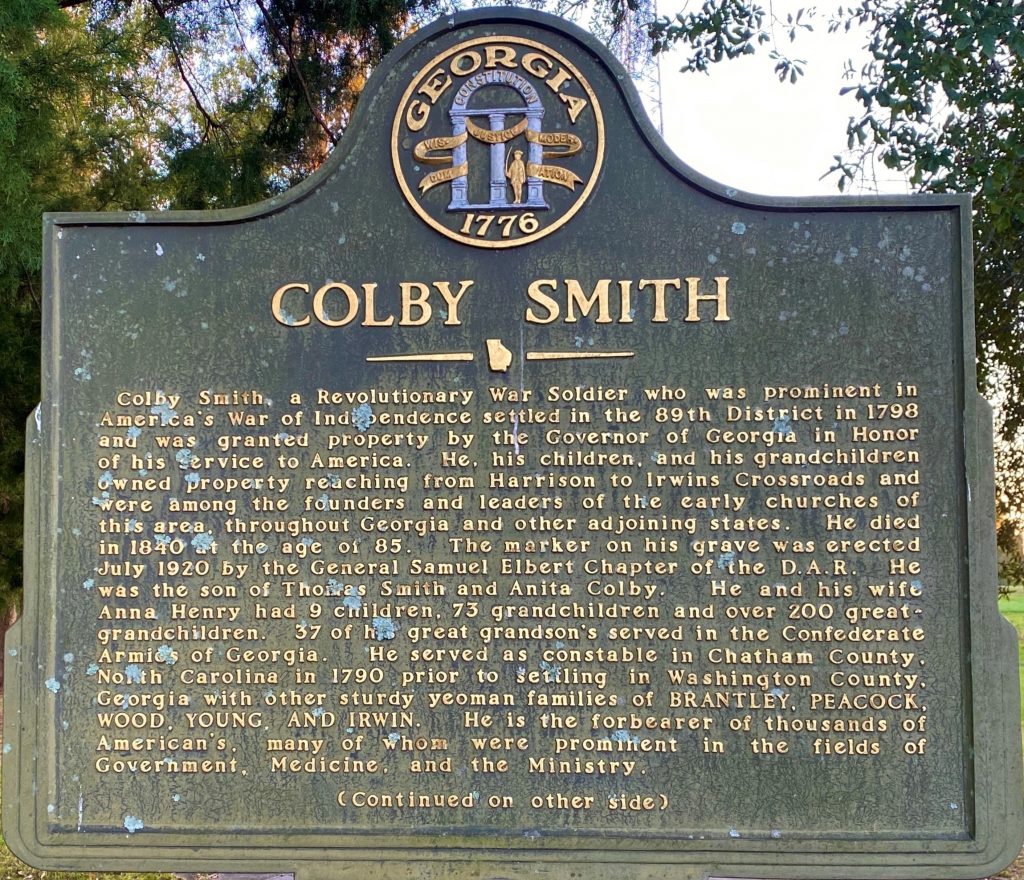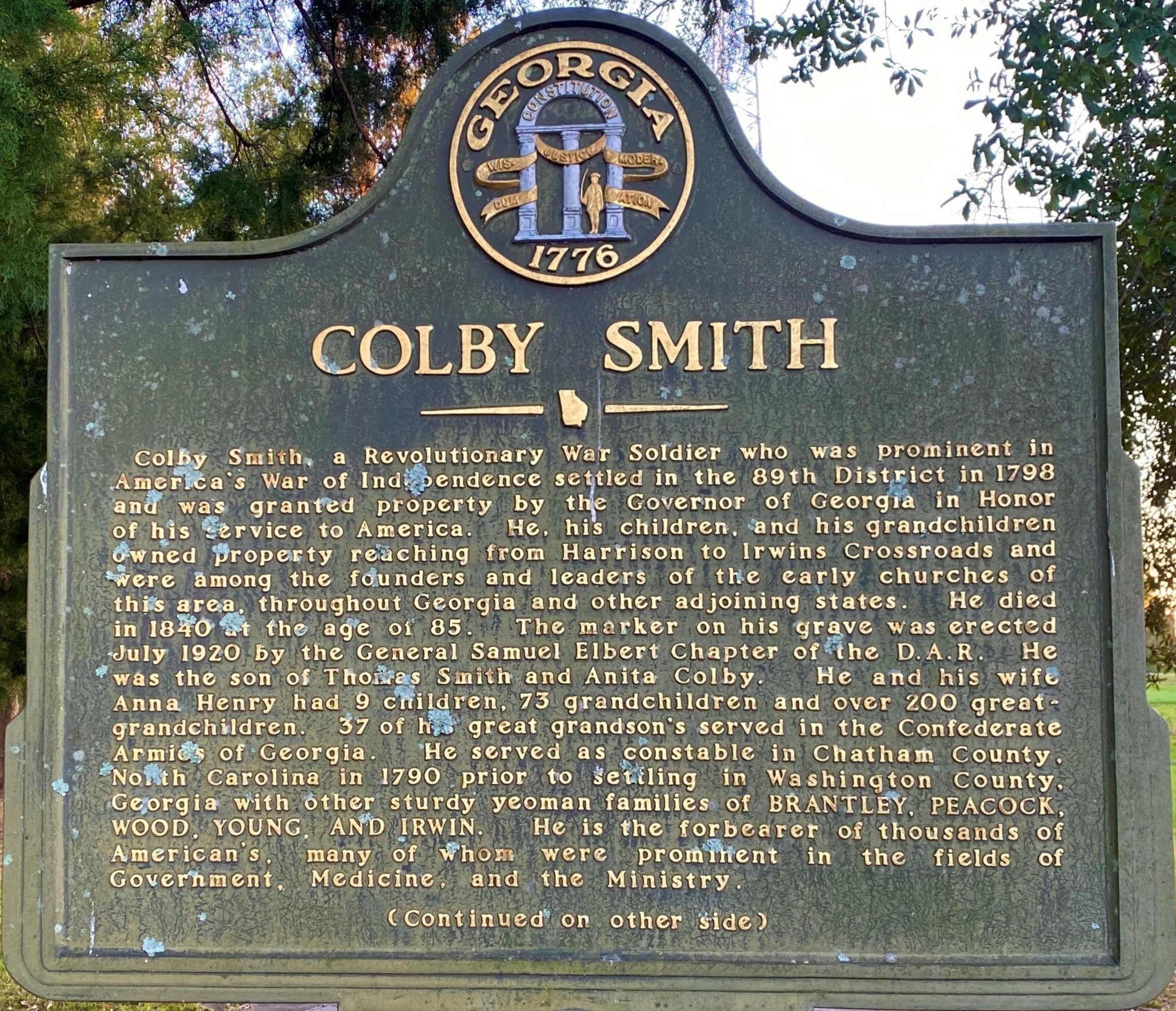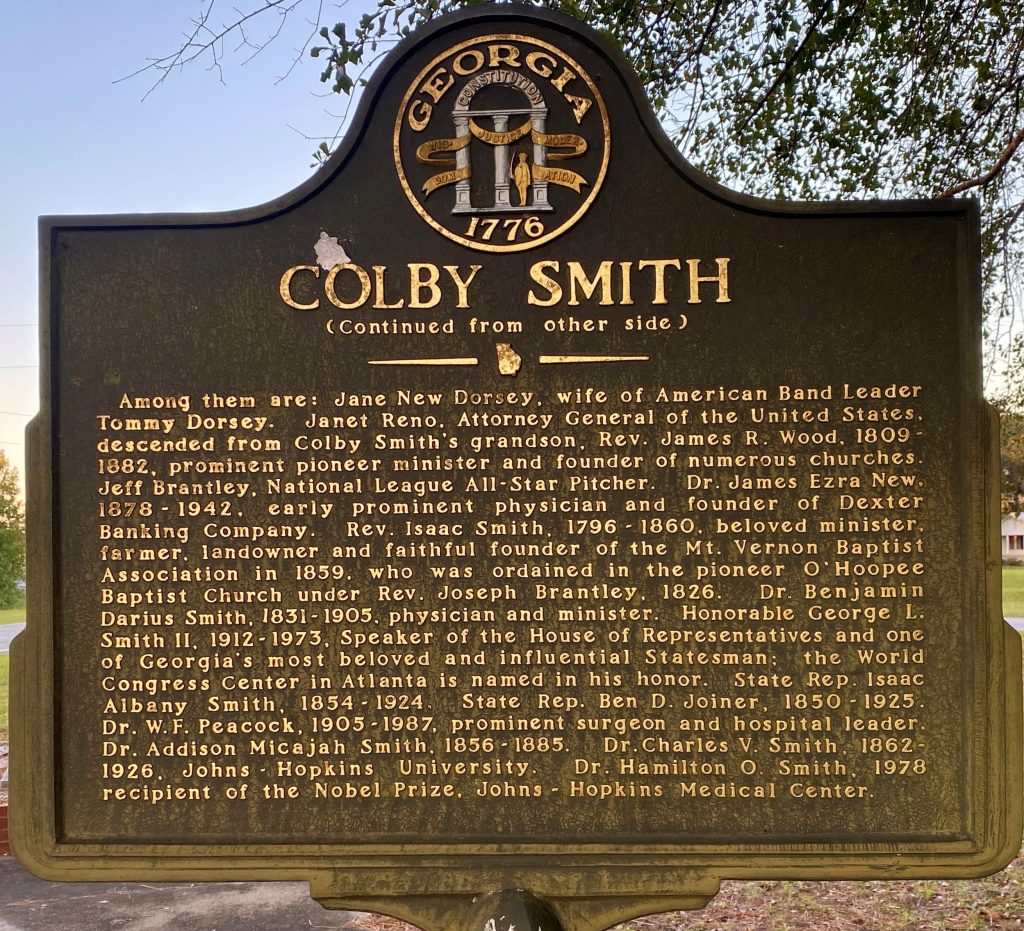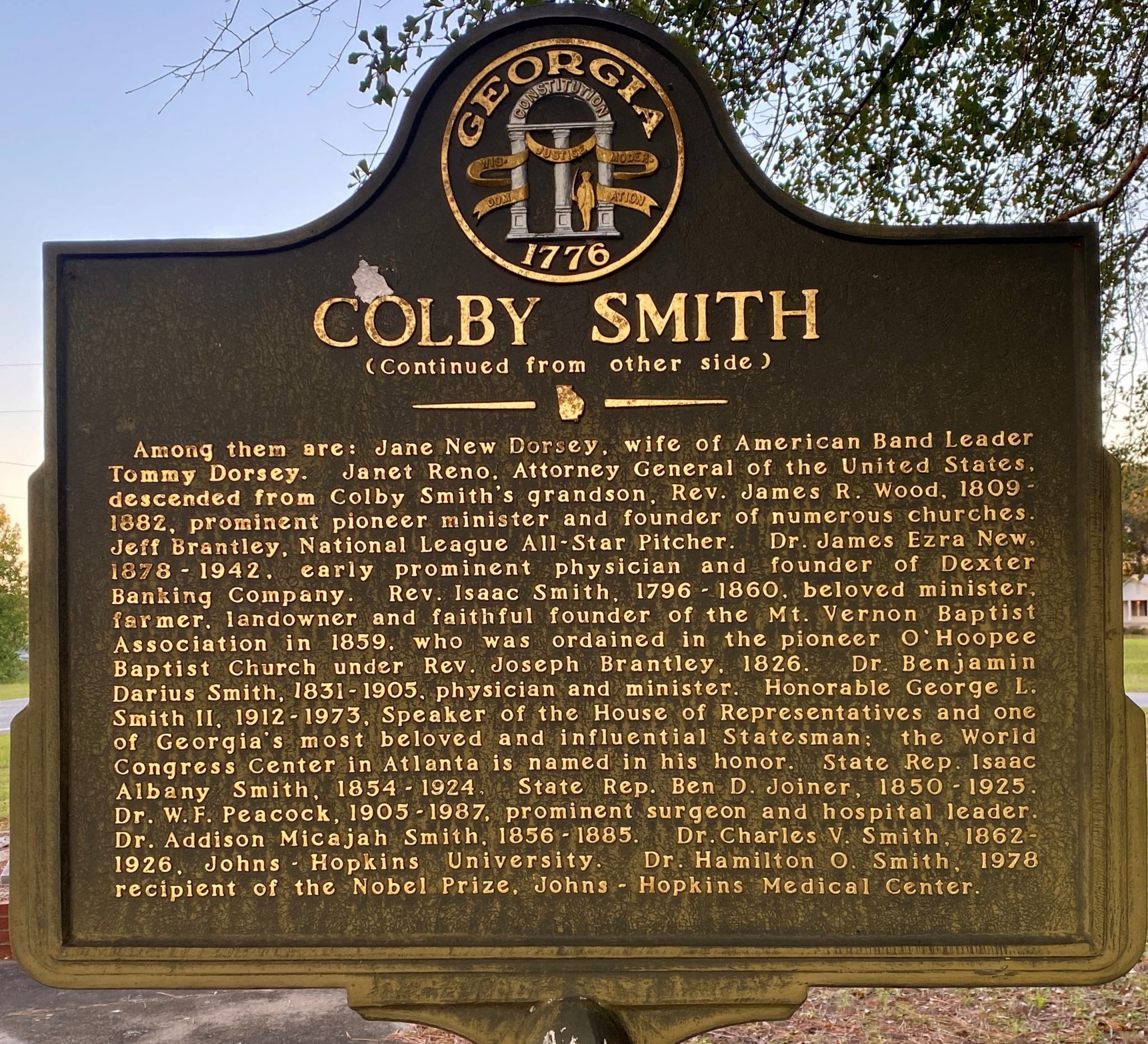 Colby Smith
Marker Text
Colby Smith, a Revolutionary War soldier who was prominent in America's War of Independence settled in the 89th District in 1798 and was granted property by the Governor of Georgia in Honor of his service to America. He, his children, and his grandchildren owned property reaching from Harrison to Irwin's Crossroads and were among the founders and leaders of the early churches of this area, throughout Georgia and other adjoining states. He died in 1840 at the age of 85. The marker on his grave was erected July 1920 by the General Samuel Elbert Chapter of the D.A.R. He was the son of Thomas Smith and Anita Colby. He and his wife Anna Henry had 9 children, 73 grandchildren and over 200 great-grandchildren. 37 of his great grandsons served in the Confederate Armies of Georgia. He served as constable in Chatham County, North Carolina in 1790 prior to settling in Washington County, Georgia with other sturdy yeoman families of Brantley, Peacock, Wood, Young, and Irwin. He is the forbearer of thousands of Americans, many of whom were prominent in the fields of Government, Medicine, and the Ministry.
Among them are: Jane New Dorsey, wife of American Band Leader Tommy Dorsey. Janet Reno, Attorney General of the United States, descended from Colby Smith's grandson, Rev. James R. Wood, 1809-1882, prominent pioneer minister and founder of numerous churches. Jeff Brantley, National League All-Star Pitcher. Dr. James Ezra New, 1878-1942, early prominent physician and founder of Dexter Banking Company. Rev. Isaac Smith, 1796-1860 beloved minister, farmer, landowner, and faithful founder of the Mt. Vernon Baptist Association in 1859, who was ordained in the pioneer O'Hoopee Baptist Church under Rev. Joseph Brantley., 1826. Dr. Benjamin Darius Smith, 1831-1905, physician and minister. Honorable George L. Smith II, 1912-1973, Speaker of the House of Representatives and one of Georgia's most beloved and influential statesman [sic]; the World Congress Center in Atlanta is named in his honor. State Rep. Isaac Albany Smith, 1854-1924. State Rep. Ben D. Joiner, 1850-1925. Dr. W.F. Peacock, 1905-1987, prominent surgeon and hospital leader. Dr. Addison Micajah Smith, 1856-1885. Dr. Chares V. Smith, 1862-1926, Johns-Hopkins University. Dr. Hamilton O. Smith, 1978 recipient of the Nobel Prize, Johns-Hopkins Medical Center.
Location 
This marker is located in a roadside park at the intersection of Georgia Highway 15 S. and Montgomery Road, 7 miles south of Tennille.
Marker Number
N/A
Date of Origin
N/A