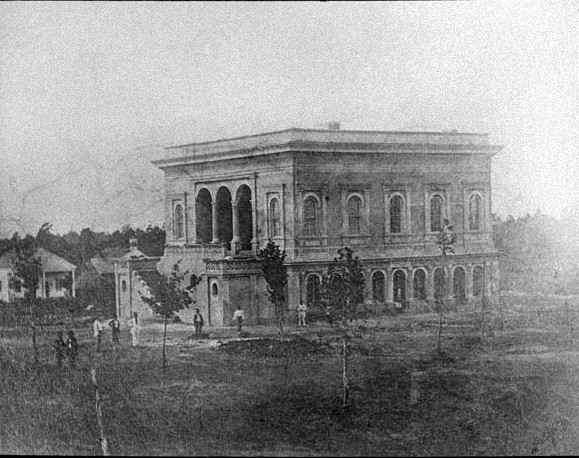 Prior to the influx of European settlers into the area, this area was inhabited by Native Americans, with traces of human settlement dating back to 6000-8000 B.C. (before the bow-and-arrow was widely used in North America).
By an act of the Georgia legislature in 1784 as a way of rewarding Revolutionary War veterans with land for their service, Washington County became the ninth county in Georgia and the first county in the nation to be named after General George Washington. Over time, ten counties were carved from the original boundaries of Washington County. 
Sandersville, designated to be the county seat in 1796 by the state legislature and charted in 1812, arose from a small trading settlement called Saunder's Store situated at the intersection of Native American trails traversing central Georgia.
Throughout the early nineteenth century, Washington County's economy was driven by agriculture. In 1841, the county's first railroad tracks linked Washington County's farmers to far-away customers. Washington County joined most of Georgia in seceding from the Union in 1861, but it wouldn't be until Sherman's March to the Sea in 1864 that Washington County would see fighting within its borders. As his army passed through the state in a scorched earth campaign intended to demoralize the Georgia people, Sherman encountered some minor resistance in Washington County from Confederate infantry and cavalry units.
Upon the Confederate retreat of the area, Sherman set up his headquarters at the Brown House.  Sherman's men spared Sandersville – save for the courthouse, which was burned on November 27, 1864. The county was left so barren and devastated by Sherman's troops that one traveler, who passed through Washington County shortly after Sherman's army, described the area as the "Burnt County."
After a time of economic hardship, Washington County experienced a period of rapid economic and population growth in the late 19th and early 20th century. During this period of expanded construction, architect Charles E. Choate left his mark on the town's architecture, designing many houses and business establishments, some of which are still standing today. Additional railroad construction further connected Washington County to the rest of the world.
Like much of the United States, life in Washington County changed dramatically over the course of the first half of the 20th century, but our county is unique in the source of our increased prosperity – kaolin ("White Gold"). Kaolin, a type of chalk used in a variety of products, was discovered in the area in the 1920s, and the industry began making rapid strides starting in the 1950s. Over the course of a few decades, the people of Washington County turned from saluting "King Cotton" to "King Kaolin."